Product Description
Laminated film for food packaging
Innovation Packaging in Gonfor
Use the laminated packaging film need to buy a packaging machine like VFFS type or horizontal pillow pack machine. Gonfor can provide good quality for laminated packaging film. The laminated packaging film used in a widely range of flexible packaging, like food, liquid, chemical, dairy food, and Pet food. Need to learn more information on packaging film or find the best solution for your product, please just contact our sales team.
Material structure:
BOPP/VMPET/PE
BOPP/AL/PE
PET/VMPET/PE
PET/AL/PE
PET/VMPET/PA/PE
PET/AL/PA/PE
KPET/PE
KPET/PA/PE
PET/EVOH
PET/ALOX/PE
Feature:
•Excellent moisture barrier, high oxygen and light barrier, good low temperature resistance.
•Strong sealing strength; bonding strength and excellent compression strength.
•Non-breakage,Non-leakage. Non-delamination.
•Sharp and vivid printing effect. Top-grade shelf display.
•Widely applied in packing.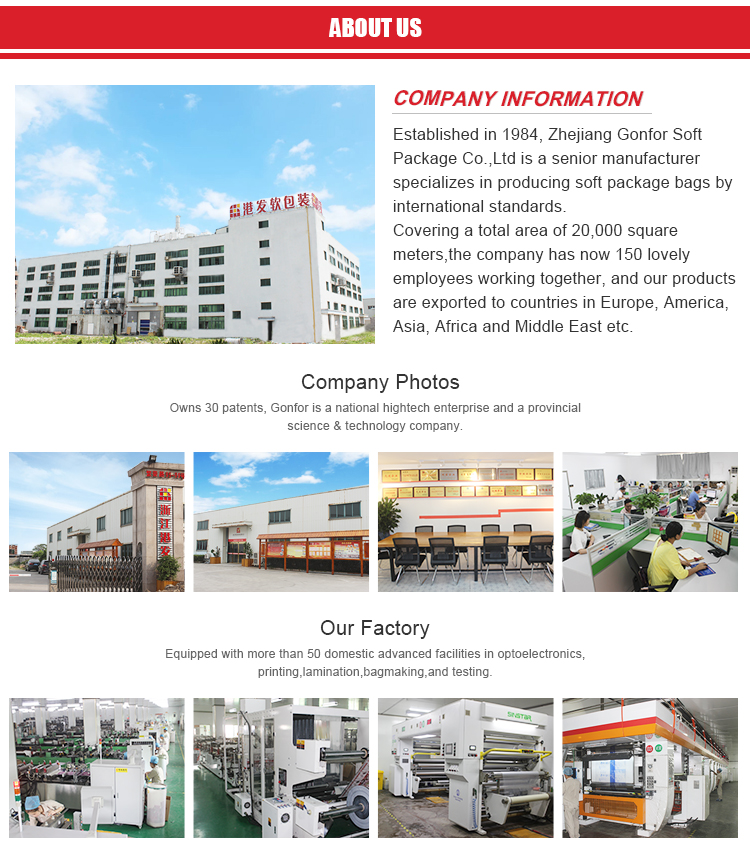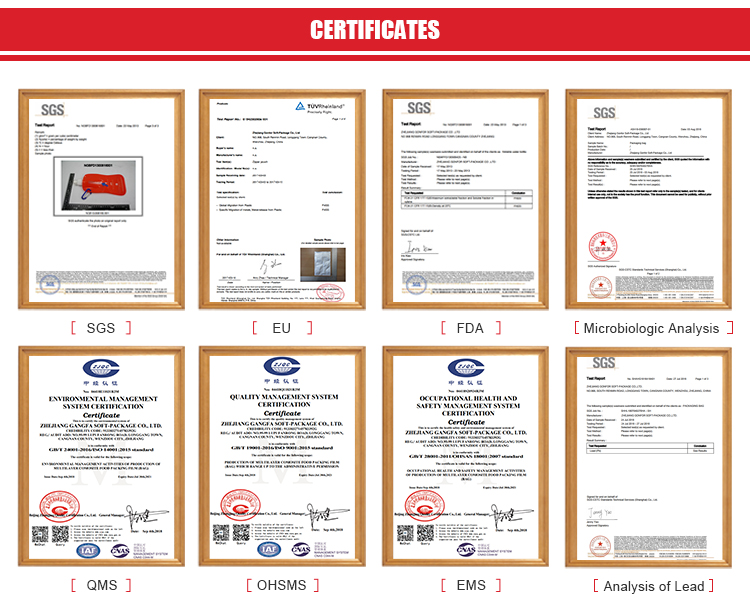 FAQ:
1. What information do I need to get a quote?
Normally, we need details such as company name. contact information, product name, material structure, roll dimensions, order quantity, and artwork file for printing color.
2. Do you form and fill packages?
No, we only supply custom material, printed or unprinted with multilayer flexible packaging rollstock film, packaging film, premade pouches which are formed. But not sealed for your fill your product. You can buy the packaging or filling equipment for your product.
3. What is the MOQ?
Our minimum order quantity for pouch is 30,000pcs.
But it always can negotiable.
For Rolls film need 300kg per design.

4. What is an eyespot or eye mark?
The eye mark or eye spot on design has two functions. 1.Ensure the alignment of back and front faces so the printing is aligned. 2.Tell the machine where to cut the product.
5. What can we do for you?
l Provide service and customized packaging solution.
l Provide design support and template for models
l Print and color management
l Packing machine type recommend
l Supply Chain Logistics
l Pre-&Post Press Quality Management
l After sell service
l Cylinder storage service
6. What is Gonfor typical lead time?
For new orders, the lead time need 3-5weeks, for repeat orders, the lead time need 2-3weeks. If you're under tight deadlines, let us know and we'll do our best to meet your needs.
7. What is MVTR and OTR?
MVTR stands for moisture vapor transmission rate, or the rate at which water vapor passes through a substance. OTR is Oxygen Transmission Rate, or the rate at which oxygen passes through a substance.
Just start a connect to our sales and reply within
24hours.