Product Description
Dog Food Packaging Solution
INNOVATIVE PACKAGING SOLUTION
As the most loyal friend of our human beings, we must pay high attention for dog food packaging. High-quality dog food bags not only protect the food, but also improve its brand level. The types of dog food packaging currectly using Flat bottom pouch, Stand up pouch, Quad seal bag, side gusset bag, Zipper bag and roll films.
We will recommend the most appropriate type according to the needs of different customers. The material of dog food packaging is made of food grade plastic film, aluminum film or co-extrusion film, which all of them had passed by EU, FDA and QS standards.
Before placing an order, we can provide you test samples for customer measurement, check material, heat sealing temperature, and so on.
In the production, we have a strictly control for each process, test all aspects to ensure the quality meet up to customer requirement.
Like, friction coefficient testing, drop testing, sealing testing, tensile testing, burst testing and mesure testing.
When you need a dog food packaging solution, Gonfor could be your loyal supplier.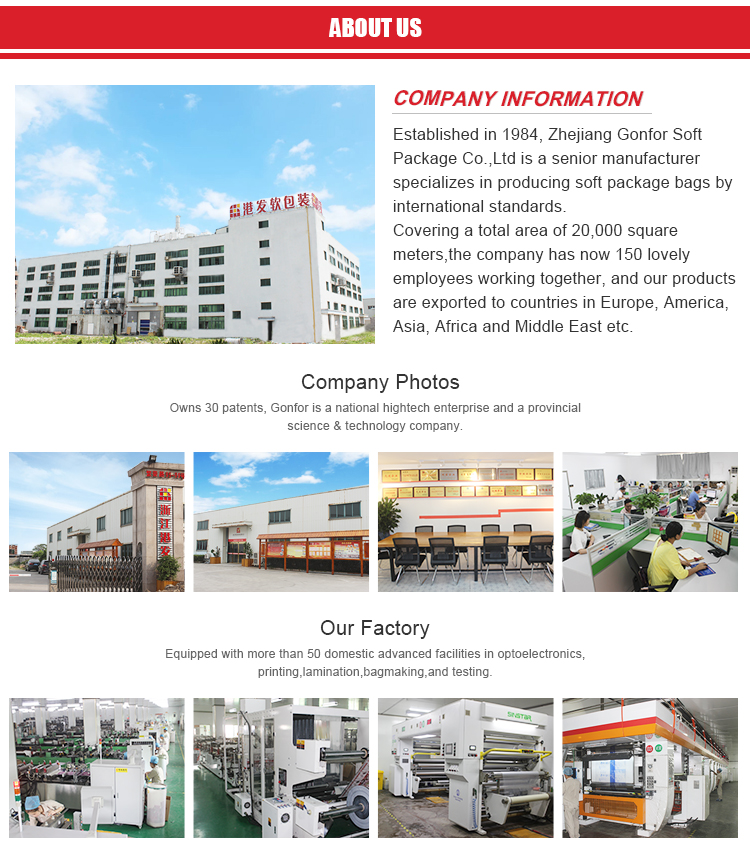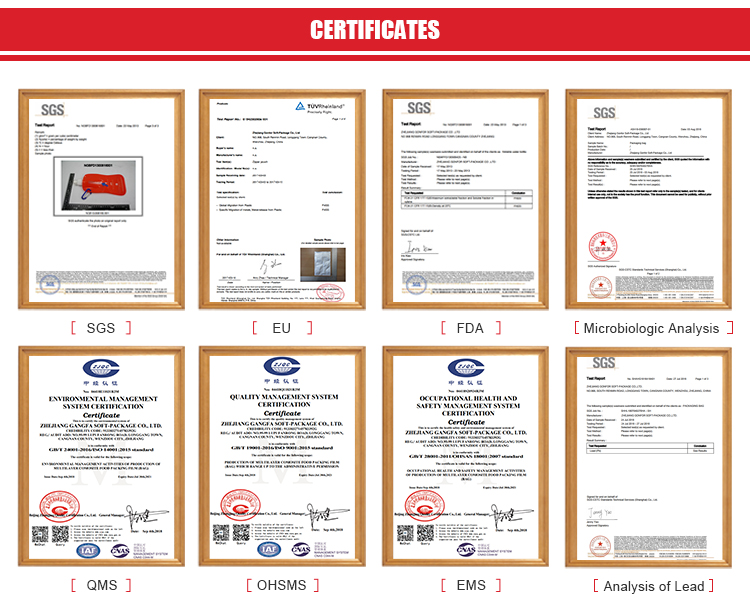 FAQ:
1. What information do I need to get a quote?
Normally, we need details such as company name. contact information, product name, material structure, roll dimensions, order quantity, and artwork file for printing color.
2. Do you form and fill packages?
No, we only supply custom material, printed or unprinted with multilayer flexible packaging rollstock film, packaging film, premade pouches which are formed. But not sealed for your fill your product. You can buy the packaging or filling equipment for your product.
3. What is the MOQ?
Our minimum order quantity for pouch is 30,000pcs.
But it always can negotiable.
For Rolls film need 300kg per design.

4. What is an eyespot or eye mark?
The eye mark or eye spot on design has two functions. 1.Ensure the alignment of back and front faces so the printing is aligned. 2.Tell the machine where to cut the product.
5. What can we do for you?
l Provide service and customized packaging solution.
l Provide design support and template for models
l Print and color management
l Packing machine type recommend
l Supply Chain Logistics
l Pre-&Post Press Quality Management
l After sell service
l Cylinder storage service
6. What is Gonfor typical lead time?
For new orders, the lead time need 3-5weeks, for repeat orders, the lead time need 2-3weeks. If you're under tight deadlines, let us know and we'll do our best to meet your needs.
7. What is MVTR and OTR?
MVTR stands for moisture vapor transmission rate, or the rate at which water vapor passes through a substance. OTR is Oxygen Transmission Rate, or the rate at which oxygen passes through a substance.
Just start a connect to our sales and reply within
24hours.